Rent a House in St. Petersburg, FL this Summer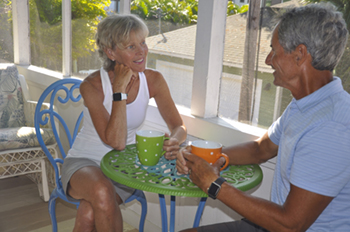 The charming screened porch is a great spot for breakfast, lunch and dinner. Purchase prepared foods downtown or cook in your own kitchen. It's a picnic on the porch!
Are you looking to create some fun, positive memories this summer? After being stuck for weeks within the same four walls suffering from cabin fever, you can now break free!
There is no need to spend extra bucks flying to Europe and dealing with whatever unknown remnants are left of the health crisis there. Salvage some summertime fun and put the winter memories behind. There is no shortage of awesome activities or unique places to stay when visiting Florida.
For max fun and relaxation, here is why you should make St. Petersburg your go-to-destination this summer.

Amazing housing available
House rentals in St. Petersburg, Florida are nearly impossible to find during the popular winter months. But now that the weather has warmed up, many tourists stay home. That makes this exciting city a great spot to be. Porch Swing Boutique Home Rentals has several high-end rentals and they are all discounted for the summer. All are easy walking distance to town, a community pool, dog park and just a short ride to the fabulous St. Petersburg beaches. Plus, all Porch Swing properties have washers/dryers, eat in kitchens and easy parking. Expect happy, homey vibes thanks to our whimsical, eclectic shabby-chic decor (at least that is what our guest's say!)
You can stay in a cute loft apartment in a quirky 100-year old carriage house with a breezy screened porch. You can stay in a charming studio apartment with a courtyard of flowers just a block off a waterfront park in a neighborhood of grand homes. Or you can spend your summer in an authentic vintage bungalow right in the beautiful residential area of Old Northeast and still walk to town.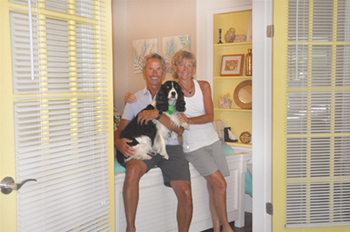 Bring your well-behaved pet and stay in a delightful loft apartment in a 100-year old carriage house. Just a short walk into town.

No winter crowds
St. Petersburg has much to offer in the summer. Stroll along Beach Drive with Tampa Bay on one side and multiple restaurants with outdoor dining on the other. Just across the street, also on the water, is the Fine Arts Museum with many special exhibits. If museums are your thing, check out the new Dali and Chihuly museums. The buildings themselves are works of art. The Raymond James museum has an outstanding collection of western exhibits that rivals many western art museums.The new Imagine Museum is packed with unusual fun exhibits. The unique creativity there will bring a smile to your face.
If you like entertainment, the Palladium Theatre is always fun and the Mahaffey Theatre has a full summer schedule. Lots of people get their kicks from browsing the farmers market in town. Unlike a hotel room, when you rent with Porch Swing Boutique Home Rentals, you can take your market purchases of fresh produce and prepared foods home to your own kitchen and dine in.
This summer, the St. Peter Pier will open and make headlines all over the country. Not just a run of the mill city pier, this pier is the largest waterfront park in the southeast. It is 26 acres of excitement. There are free performances, vendors, restaurants and outstanding artwork. The bending arc is an aerial nest sculpture 79 feet high and 428 feet across. This outstanding sculpture billows overhead and changes shape with the wind. It will take your breathe away. There is a discovery center and wet classrooms, a fishing deck, a market place, picnic area and great views all around. Since it is opening this summer, you will be among the first to see it.

Enhanced cleaning
At Porch Swing Boutique Home Rentals we understand that having a sparkling, germ-fee home in these times is paramount. That is why we implemented our enhanced cleaning protocol. We use professional cleaners. Between bookings we ventilate rooms before cleaning. We use the right disinfectants and cleaning solutions and pay special attention to frequently touched surfaces like light switches, doorknobs, remote controls and faucet handles. We use a eucalyptus scent on the final mop of the floor. Eucalyptus has many health benefits. It has strong antimicrobial properties and stimulates the immune system. You'll love the smell, too.
So if you are tired of going stir crazy and need a break, check out this relaxing yet exciting destination. Look into St. Petersburg home rentals this summer. Book a Porch Swing Boutique Home Rentals property. You will create some exciting summertime memories in a great city. And get some serotonin-boosting sunlight at the same time. After all St. Petersburg has 360 days of sun!